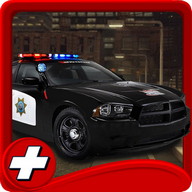 Police Car Parking Simulation
Description
Police Car Parking Simulation Android Game
une expérience de conduite la vie de la police réel étonnante!
Police Сar Parking Simulation 3D is the ultimate Сar Parking game. This Police Сar Parking Simulation 3D game is the best
Parking simulation game there is. So get ready for a super fun driving game where you
can show off your driving skills. You will learn how to drive a real life police car.
Police Сar Parking Simulation is really fabulous and we are sure you will enjoy this
parking simulation game very much. So if you are a real car parking lover you should download
this application for free on your mobile phone and on your tablet.
The Police Сar Parking Simulation 3D game is an android game that lets you try what it
takes to become a real life police men and learn how to drive your own police car. If
you are a parking simulation game lover, you are in luck. Police Сar Parking Simulation is the game
for parking game addicts. You are able to drive around in the newest en one of the
most pretty police cars there is. This is the game if you are really addicted to any
aspect of driving and you want to know how it feels to drive around in a police car
. you have to drive your police car to the parking spot with out getting to much damage
Game features:
- Еnhanced 3D graphics for high-end devices
- Super detailed fresh graphics engine
This polio driver is a kind of parking game
So have fun, and we believe this Police Сar Parking Simulation game can be
a fun addition for every parking game lover. So all of you future drivers out there,
download Police Сar Parking Simulation 3D because, we believe that Police Parking Driver
will be an amazingly cool driving simulation experience. Play our latest Police Сar Parking Simulation and
become the best driver in the world. So if you are looking for a Police Сar Parking Simulation
game that is suitable for all ages, the game is fully child friendly and does not
contain any out of the ordinary game features which makes this police parking Game
and driving game perfect for any kid to play around with.
We hope you will enjoy this fabulous game and give us some love by liking our facebook page so we can keep you up to date on our latest games!
? www.facebook.com/MobilePlusgames
Info
Info
Résumé des commentaires
Il n'y a actuellement aucun commentaire pour ce jeu
Vous pourriez aussi aimer:
Le service des jeux Android est fourni par PHONEKY et c'est 100% gratuit!
Les jeux peuvent être téléchargés par Samsung, Huawei, Oppo, Vivo, LG, Xiaomi, Lenovo, ZTE et d'autres téléphones mobiles Android OS.
Informations sur la page:
Télécharger Police Car Parking Simulation jeu pour mobiles Android - l'un des meilleurs jeux Android gratuitement! Sur le marché des jeux Android PHONEKY, vous pouvez télécharger gratuitement des jeux mobiles pour n'importe quel téléphone ou tablette. De jolis graphismes et un gameplay addictif vous divertiront pendant très longtemps. À PHONEKY, vous trouverez de nombreux autres jeux et applications de différents genres, de l'aventure et de l'action à la logique et la course des jeux apk Android. Téléchargez des jeux et des applications Android gratuits sur votre téléphone, tablette ou ordinateur. Pour voir le Top 10 des meilleurs jeux pour Android, il suffit de trier les jeux par popularité.
d'accord