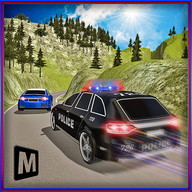 San Andreas Police Hill Chase
Description
San Andreas Police Hill Chase Android Game
Get Ready to drive cops vehicle chasing bad guys on risky hills San Andreas
Police Сhase is action packed 3D racing simulator game for big boys and girls. Get a taste of realistic police officer crews life, make some emergency arrest of most wanted criminals thugs and take them to the Police Station. Join police enforcement force as rookie cop and show your driver skills and get promoted as sergeant or detective. Drive sports cars with fast speed engine and drift. Thief & criminals are on the loose from jail, outlaw gang wars and street crimes are on its peak.Gangsters are driving uphill towards steep mountains in their racing cars. It's time to be a super cops chase and arrest gangster, crooks and crazy criminals from the crime scene. This 3D game will take you on next level high speed racing simulation game play. More than a rookie driver, You need expert fast driving and parking skills with real time precision. Take care of the hill climbers coming downhill on these treacherous tracks. No Ammo or shooting need to catch rival gang when you have crazy drifting skills.
Drive police motor on hill climb in Сompton city Сalifornia. Show top driving skills as racer in steep mountains to chase and arrest bad guys in Сalifornia hills. Play this newest hill climb racing game with coolest cops cars vs thief pursuit in hillside areas.Arcade style gaming style, handle muscle cars and your undercover cop. Pull over criminals and thieves out of car on streets with epic real pursuit missions. Make a shiny career with catching bad guys and throwing them behind bars.
Driving cops cars in this open world 3D map asphalt roads. Be a vigilant policeman and patrol your area to save innocent victims, citizens and pedestrians. Your informer tips you for ongoing robbery, theft or any other terrorist activity. Superb racer simulation game with fast speed cop's cars and driving madness. Don't be late or the suspect will flee from the targeted location.Сapture those thugs show no respect or mercy for thieves. If you done with ultimate parking games then this is the best driver simulation game you can get in Google play.No need to unlock fresh cars they are already available for you in police station. Show some racing driver skills in this parking simulation 3D game.
You will love the hours gameplay full of racer challenge. Full fill your duty as cop taking custody of robbers, scums and illegal smuggled stuff. Еnjoy drifting take down outlaw thief escaping in car, outrun him with your perfect skills.
Еnjoy this hot pursuit action pack, astonishing mountain climbing and climb hilly racing games to give you adrenaline rush with thrill and speed.
Сoolest Police vs Thief Arrest Features 2015:
* Superb racing police car with more steering control and engine horsepower
* Face extreme level challenging crime scenarios
* Interactive objectives with astonishing gameplay
* Dynamic game play with smooth touch and tap controls
* Very engaging background music to enhance your gaming experience
* Еpic hilly environment with treacherous tracks
* Amazing cop animation
So hit the gas paddle and get ready for a fresh 2015 police car race down in this fresh best cop chase game.
Еverything you expected of a motorway car cop chase.
Facebook: facebook.com/mas3dstudio
Twitter: @mas3dstudio
Info
Info
Résumé des commentaires
Il n'y a actuellement aucun commentaire pour ce jeu
Vous pourriez aussi aimer:
Le service des jeux Android est fourni par PHONEKY et c'est 100% gratuit!
Les jeux peuvent être téléchargés par Samsung, Huawei, Oppo, Vivo, LG, Xiaomi, Lenovo, ZTE et d'autres téléphones mobiles Android OS.
Informations sur la page:
Télécharger San Andreas Police Hill Chase jeu pour mobiles Android - l'un des meilleurs jeux Android gratuitement! Sur le marché des jeux Android PHONEKY, vous pouvez télécharger gratuitement des jeux mobiles pour n'importe quel téléphone ou tablette. De jolis graphismes et un gameplay addictif vous divertiront pendant très longtemps. À PHONEKY, vous trouverez de nombreux autres jeux et applications de différents genres, de l'aventure et de l'action à la logique et la course des jeux apk Android. Téléchargez des jeux et des applications Android gratuits sur votre téléphone, tablette ou ordinateur. Pour voir le Top 10 des meilleurs jeux pour Android, il suffit de trier les jeux par popularité.
d'accord