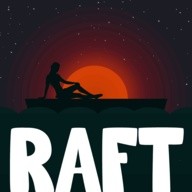 Raft Survival Simulator
Description
Raft Survival Simulator Android Game
Survive on a raft in the middle of the ocean
Raft Survival Simulator is a survival game where you play a castaway stranded on a raft in the middle of the ocean. Your sole aim is to survive by making sure you eat, drink, sleep, and don't get eaten by a shark ... which is actually harder than it sounds.
Just slide your finger around the left side of the screen to move your character, and around the right side to look around. To start out all you have is a hook with a rope to use for collecting resources from the water: wood, rope, food, and so on.
One of the most important elements in Raft Survival Simulator is the 'crafting.' You have to build tons of different tools and objects to survive on the raft. You can even upgrade your raft – making it bigger, building walls, and much more. Of course all this is done with the unsettling presence of a hungry shark lurking nearby.
Raft Survival Simulator is an entertaining survival game that, unlike many similar Android apps, is actually high-quality. Plus, the game is updated constantly with new tools, weapons, and all different sorts of objects. And as you can see in the screenshots, the graphics are outstanding.
Info
Info
Résumé des commentaires
Il n'y a actuellement aucun commentaire pour ce jeu
Vous pourriez aussi aimer:
Le service des jeux Android est fourni par PHONEKY et c'est 100% gratuit!
Les jeux peuvent être téléchargés par Samsung, Huawei, Oppo, Vivo, LG, Xiaomi, Lenovo, ZTE et d'autres téléphones mobiles Android OS.
Informations sur la page:
Télécharger Raft Survival Simulator jeu pour mobiles Android - l'un des meilleurs jeux Android gratuitement! Sur le marché des jeux Android PHONEKY, vous pouvez télécharger gratuitement des jeux mobiles pour n'importe quel téléphone ou tablette. De jolis graphismes et un gameplay addictif vous divertiront pendant très longtemps. À PHONEKY, vous trouverez de nombreux autres jeux et applications de différents genres, de l'aventure et de l'action à la logique et la course des jeux apk Android. Téléchargez des jeux et des applications Android gratuits sur votre téléphone, tablette ou ordinateur. Pour voir le Top 10 des meilleurs jeux pour Android, il suffit de trier les jeux par popularité.
d'accord