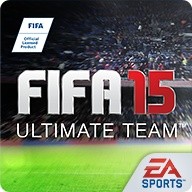 FIFA 15 Ultimate Team
Description
FIFA 15 Ultimate Team Android Game
Higuain, Thiago Silva, Messi... create the team of your dreams and win
Important: It's necessary to install this game from the official app. The file includes additional OBB data, so it's not compatible with traditional installation packages.
FIFA 15 Ultimate Team is the annual installment of the FIFA series for Android devices, which, as usual, allows you to enjoy the 'Ultimate Team' game mode from your phone or tablet – and it's completely free.
With FIFA 15 Ultimate Team, you can put together the team of your dreams from scratch. In the beginning, you'll receive several packs of cards in which you will find players, contracts, coaches, training systems, and all the usual stuff from 'Ultimate Team' mode.
To buy more card packs, you'll need to use the money you earn by winning games and tournaments in FIFA 15, though you can also use real money. Either way, in the best packs you'll find some of the best players in the world: Messi, Ronaldo, Ibrahimovic, Suarez ... for a total of over 10,000 real players from more than 5,000 different teams.
The game system of FIFA 15 Ultimate Team is very similar to that of the previous installment. You can select between the classical control system with virtual buttons or a control system adapted to touch screens based on pressing different areas of the screen. Both work perfectly.
FIFA 15 Ultimate Team is an excellent sports game that, despite having a less-than-perfect simulator (even the graphics leave a bit to be desired), offers a very solid gaming experience overall.
By Andrés López
RequirementsRequires Android 2.3.3 or higher
Info
Info
Résumé des commentaires
Il n'y a actuellement aucun commentaire pour ce jeu
Poster Votre Commentaire
Registre Enregistrez un compte PHONEKY pour poster des avis avec votre nom, téléchargez et stockez vos applications mobiles préférées, jeux, sonneries et amplis; fonds d'écran.
Inscription ou Connectez-vous à PHONEKY


Vous pourriez aussi aimer:
Le service des jeux Android est fourni par PHONEKY et c'est 100% gratuit!
Les jeux peuvent être téléchargés par Samsung, Huawei, Oppo, Vivo, LG, Xiaomi, Lenovo, ZTE et d'autres téléphones mobiles Android OS.
Informations sur la page:
Télécharger FIFA 15 Ultimate Team jeu pour mobiles Android - l'un des meilleurs jeux Android gratuitement! Sur le marché des jeux Android PHONEKY, vous pouvez télécharger gratuitement des jeux mobiles pour n'importe quel téléphone ou tablette. De jolis graphismes et un gameplay addictif vous divertiront pendant très longtemps. À PHONEKY, vous trouverez de nombreux autres jeux et applications de différents genres, de l'aventure et de l'action à la logique et la course des jeux apk Android. Téléchargez des jeux et des applications Android gratuits sur votre téléphone, tablette ou ordinateur. Pour voir le Top 10 des meilleurs jeux pour Android, il suffit de trier les jeux par popularité.
d'accord