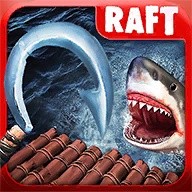 RAFT: Original survival game
Description
RAFT: Original survival game Android Game
Survive adrift in a sea infested by sharks
RAFT: Original survival game is a game for Android that challenges you to survive on a raft that's adrift on a sea infested by sharks. If you like similar games then you'll be super entertained by this version of the popular format.
RAFT: Original survival game gives you the opportunity to enjoy the survival experience to the fullest. You have to make sure you keep yourself hydrated and well-fed, collect materials that float up to your raft and build artifacts, weapons, tools and improvements that you'll need for your survival. At the same time you have to try your best not to fall off because the sea is constantly infested by sharks that won't think twice about attacking you if they have the chance.
Gameplay in RAFT: Original survival game is really simple because you can use really intuitive controls that you'll see on your screen. You can move the raft, interact with the different objects and artifacts that you build and store and perform all kinds of actions such as fishing, defending yourself from sharks' attacks or collecting everything you see on the surface of the water.
RAFT: Original survival game is definitely a game that'll keep you entertained. Accept the challenge, reach your objectives and survive.
Info
Info
Résumé des commentaires
Il n'y a actuellement aucun commentaire pour ce jeu
Vous pourriez aussi aimer:
Le service des jeux Android est fourni par PHONEKY et c'est 100% gratuit!
Les jeux peuvent être téléchargés par Samsung, Huawei, Oppo, Vivo, LG, Xiaomi, Lenovo, ZTE et d'autres téléphones mobiles Android OS.
Informations sur la page:
Télécharger RAFT: Original survival game jeu pour mobiles Android - l'un des meilleurs jeux Android gratuitement! Sur le marché des jeux Android PHONEKY, vous pouvez télécharger gratuitement des jeux mobiles pour n'importe quel téléphone ou tablette. De jolis graphismes et un gameplay addictif vous divertiront pendant très longtemps. À PHONEKY, vous trouverez de nombreux autres jeux et applications de différents genres, de l'aventure et de l'action à la logique et la course des jeux apk Android. Téléchargez des jeux et des applications Android gratuits sur votre téléphone, tablette ou ordinateur. Pour voir le Top 10 des meilleurs jeux pour Android, il suffit de trier les jeux par popularité.
d'accord