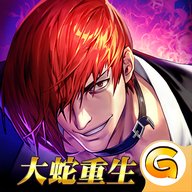 Fist of the King of Fighters
Description
Fist of the King of Fighters Android Game
A brutal beat 'em up from King of Fighters
'Fighting of the King of Fighters' is a SNK genuine authorized mobile game created by the G sister game, perfect for re-enacting arcades, re-burning fighting blood! Popular fighters from all ages gathered to create the strongest KOF competition, the classic 3v3 fair showdown, and bring the arcade super cool PK experience. The first stage ranks fighting esports mode, the speed and passion of the car game, the 3V3 team MOBA push tower, the social full cross-service match, the martial arts hall of the Wuhui friends... here are the fighting blood you have never had before.
Game features -
SNK genuine authorized fighting hand tour
'Fighting of the King of Fighters' creates exquisite picture quality, and the original voice of the seiyuu is dedicated. For the first time, the complete story of Weinan Town, Zhanjisi, Douka, and the Big Snake!
Classic arcade perfect replica
The fighting spirit is not destroyed! Restore the classic arcade, even the tricks, big moves, tumbling and other operations bring super cool PK experience, feelings of engraving 'one currency clearance' arcade gameplay, let the fighting wake up the blood!
The role of the past generations
Historical characters have once again assembled due to fate! The grasshoppers, the eight gods, the fire dancers and other fighters gathered in the 'Fighting of the King of Fighters'. Arbitrarily recruiting fighters, come to KOF for hegemony, and create a new era of King of Fighters!
Fair play without attributes PK
Cross-service match, classic 3V3 showdown, summoned fight home, no attribute value bonus, rely on operation to conquer opponents! Come back to the KO battlefield, it is time to prove to the world that you are the strongest!
MOBA Athletics 3V3 Push Tower
Break through tradition, a new experience! The new mode of instant battle between the first fight and MOBA allows players and friends to team up to see who can keep it to the end!
Voice interaction
It's a brother fighting! The voice system allows your friends to help immediately, and you can fight for it anytime, anywhere! In addition to voice, as a fighting enthusiast, you can also exchange blood with Wuhui friends!
Info
Info
Résumé des commentaires
Il n'y a actuellement aucun commentaire pour ce jeu
Poster Votre Commentaire
Registre Enregistrez un compte PHONEKY pour poster des avis avec votre nom, téléchargez et stockez vos applications mobiles préférées, jeux, sonneries et amplis; fonds d'écran.
Inscription ou Connectez-vous à PHONEKY


Vous pourriez aussi aimer:
Le service des jeux Android est fourni par PHONEKY et c'est 100% gratuit!
Les jeux peuvent être téléchargés par Samsung, Huawei, Oppo, Vivo, LG, Xiaomi, Lenovo, ZTE et d'autres téléphones mobiles Android OS.
Informations sur la page:
Télécharger Fist of the King of Fighters jeu pour mobiles Android - l'un des meilleurs jeux Android gratuitement! Sur le marché des jeux Android PHONEKY, vous pouvez télécharger gratuitement des jeux mobiles pour n'importe quel téléphone ou tablette. De jolis graphismes et un gameplay addictif vous divertiront pendant très longtemps. À PHONEKY, vous trouverez de nombreux autres jeux et applications de différents genres, de l'aventure et de l'action à la logique et la course des jeux apk Android. Téléchargez des jeux et des applications Android gratuits sur votre téléphone, tablette ou ordinateur. Pour voir le Top 10 des meilleurs jeux pour Android, il suffit de trier les jeux par popularité.
d'accord