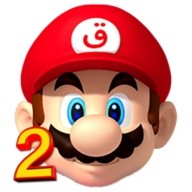 Super Mario 2 HD
Description
Super Mario 2 HD Android Game
Amazing fangame based on the Nintendo hero
Super Mario 2 HD is an unofficial game designed by fans and based on the range of titles initiated by Super Mario Bros Wii, which keeps its traditional 2D design but includes 3D graphics.
The title incorporates graphics and sounds from previous installments, however, it is not an emulator and has been designed from scratch using the Unity game engine. The best-known features from the saga remain intact, although the settings are never-before-seen variations of worlds found in different official titles.
Even though the game is free, the monetization system is built around the fact that you have to wait in order to recover lost lives. With the coins you earn as you play, you are able to purchase more lives, or exchange them for added feature such as extra characters. Peach, Luigi, or Toad can also be selected.
Super Mario 2 HD is one of the best fangames you can find on Android. Plus, the controls are well-adapted for touchscreen devices and you can choose between two kinds of virtual sticks, which can even be customized.
NotesThe game comes in Arabic by default, but can be changed to English using the settings menu. RequirementsRequires Android 4.0.3 or higher
Info
Info
Résumé des commentaires
Il n'y a actuellement aucun commentaire pour ce jeu
Poster Votre Commentaire
Registre Enregistrez un compte PHONEKY pour poster des avis avec votre nom, téléchargez et stockez vos applications mobiles préférées, jeux, sonneries et amplis; fonds d'écran.
Inscription ou Connectez-vous à PHONEKY


Vous pourriez aussi aimer:
Le service des jeux Android est fourni par PHONEKY et c'est 100% gratuit!
Les jeux peuvent être téléchargés par Samsung, Huawei, Oppo, Vivo, LG, Xiaomi, Lenovo, ZTE et d'autres téléphones mobiles Android OS.
Informations sur la page:
Télécharger Super Mario 2 HD jeu pour mobiles Android - l'un des meilleurs jeux Android gratuitement! Sur le marché des jeux Android PHONEKY, vous pouvez télécharger gratuitement des jeux mobiles pour n'importe quel téléphone ou tablette. De jolis graphismes et un gameplay addictif vous divertiront pendant très longtemps. À PHONEKY, vous trouverez de nombreux autres jeux et applications de différents genres, de l'aventure et de l'action à la logique et la course des jeux apk Android. Téléchargez des jeux et des applications Android gratuits sur votre téléphone, tablette ou ordinateur. Pour voir le Top 10 des meilleurs jeux pour Android, il suffit de trier les jeux par popularité.
d'accord