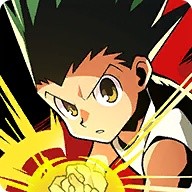 HUNTER×HUNTER: Greed Adventure
Description
HUNTER×HUNTER: Greed Adventure Android Game
Lead Gon and his friends to victory on Greed Island
HUNTER×HUNTER: Greed Adventure is a role-playing game set in the world of the popular manga HUNTERxHUNTER. In this game, you lead Gon, Killua, Kurapika, and other characters to victory on Greed Island.
The story of HUNTER×HUNTER: Greed Adventure takes place after Greed Island: la Asociación de Cazadores. The island is now in his control, and everything has changed. In the famous Greed Island 2 (G.I.2), you'll experience adventures that extend beyond the series, reliving vivid memories through flashbacks.
Playing this HUNTERxHUNTER-inspired game couldn't be easier: combat is automatic, so all you have to do is activate special abilities for each character on your team. Thanks to this, you can spend more energy finding new characters, leveling up, and creating the perfect team.
HUNTER×HUNTER: Greed Adventure is an amazing video game that adds new stories to the fantastic manga created by Yoshihiro Togashi. The graphics are designed to bring you into the world of anime, and it has tons of dialogue featuring the voices of the original dubbers.
RequirementsRequires Android 5.0 or higher
Info
Info
Résumé des commentaires
Il n'y a actuellement aucun commentaire pour ce jeu
Poster Votre Commentaire
Registre Enregistrez un compte PHONEKY pour poster des avis avec votre nom, téléchargez et stockez vos applications mobiles préférées, jeux, sonneries et amplis; fonds d'écran.
Inscription ou Connectez-vous à PHONEKY


Vous pourriez aussi aimer:
Le service des jeux Android est fourni par PHONEKY et c'est 100% gratuit!
Les jeux peuvent être téléchargés par Samsung, Huawei, Oppo, Vivo, LG, Xiaomi, Lenovo, ZTE et d'autres téléphones mobiles Android OS.
Informations sur la page:
Télécharger HUNTER×HUNTER: Greed Adventure jeu pour mobiles Android - l'un des meilleurs jeux Android gratuitement! Sur le marché des jeux Android PHONEKY, vous pouvez télécharger gratuitement des jeux mobiles pour n'importe quel téléphone ou tablette. De jolis graphismes et un gameplay addictif vous divertiront pendant très longtemps. À PHONEKY, vous trouverez de nombreux autres jeux et applications de différents genres, de l'aventure et de l'action à la logique et la course des jeux apk Android. Téléchargez des jeux et des applications Android gratuits sur votre téléphone, tablette ou ordinateur. Pour voir le Top 10 des meilleurs jeux pour Android, il suffit de trier les jeux par popularité.
d'accord