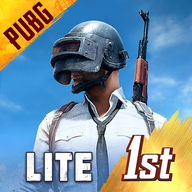 PUBG MOBILE LITE
Description
PUBG MOBILE LITE Android Game
Lighter but more exhilarating!
PUBG MOBILE LITE uses Unreal Engine 4 and builds on the original PUBG MOBILE gameplay to create action-packed Arena Mode matches lasting 10 minutes or less. The streamlined game requires only 600 MB of free space and 1 GB of RAM to run smoothly.
1. PUBG MOBILE LITE
60 players drop onto a 2km x 2km island rich in resources and duke it out for survival in a shrinking battlefield. Search for weapons, vehicles, and supplies to aid you in the battle. Prepare to land and fight to be the last one standing!
Supports 12 languages: English, Spanish, Portuguese, Russian, Turkish, Indonesian, Thai, Simplified Chinese, Traditional Chinese, Arabic, German, and French.
2. Fair gaming environment
Advanced anti-cheat system to ensure all PUBG MOBILE LITE players can enjoy a fair gaming experience.
3. Arena
Warehouse: intense 4 vs 4 battle with endless respawns for thrilling matches!
4. Team up with friends
Local team up, room cards and clan modes make it easier to keep playing with your friends any time, any place.
5. HD graphics and audio
The amazing Unreal Engine 4 creates realistic and immersive gameplay on an expansive HD map. High definition audio and 3D sound effects bring you into the firefights like never before.
6. Teamwork
Invite friends to play and create a winning strategy together using voice chat. Set up ambushes and surprise your enemies. Revive your teammates in the heat of battle and fight for your clan's dominance.
7. Official Updates
Follow us on our community pages for the latest updates:
Official site: www.pubgmlite.com
Facebook: https:www.facebook.com/PUBGMOBILELITE
Twitter: twitter.com/pubgmobilelite
Info
Info
Résumé des commentaires
Il n'y a actuellement aucun commentaire pour ce jeu
Poster Votre Commentaire
Registre Enregistrez un compte PHONEKY pour poster des avis avec votre nom, téléchargez et stockez vos applications mobiles préférées, jeux, sonneries et amplis; fonds d'écran.
Inscription ou Connectez-vous à PHONEKY


Vous pourriez aussi aimer:
Le service des jeux Android est fourni par PHONEKY et c'est 100% gratuit!
Les jeux peuvent être téléchargés par Samsung, Huawei, Oppo, Vivo, LG, Xiaomi, Lenovo, ZTE et d'autres téléphones mobiles Android OS.
Informations sur la page:
Télécharger PUBG MOBILE LITE jeu pour mobiles Android - l'un des meilleurs jeux Android gratuitement! Sur le marché des jeux Android PHONEKY, vous pouvez télécharger gratuitement des jeux mobiles pour n'importe quel téléphone ou tablette. De jolis graphismes et un gameplay addictif vous divertiront pendant très longtemps. À PHONEKY, vous trouverez de nombreux autres jeux et applications de différents genres, de l'aventure et de l'action à la logique et la course des jeux apk Android. Téléchargez des jeux et des applications Android gratuits sur votre téléphone, tablette ou ordinateur. Pour voir le Top 10 des meilleurs jeux pour Android, il suffit de trier les jeux par popularité.
d'accord
Ce jeu nécessite des données supplémentaires à télécharger après l'installation!
d'accord
Ce jeu est un vieux rétro NES, SNES, GBA, N64 ou PSX ROM que vous pouvez émuler / exécuter sur votre appareil Android!
d'accord